About Southwest Environmental, Inc.
Southwest Environmental, Inc. was developed 1998 to provide manhole vacuum-testing and repair services to manhole manufacturers/installers and pipeline companies. Southwest Environmental, Inc. assisted ADEQ in developing and implementing the vacuum test standard of ASTM 1244 in Arizona. Since 1998, Southwest Environmental, Inc. (SWE, Inc.) has not strayed from providing manhole, lift station, and pipeline services to the Waste Water/Wet Utility industry in Arizona, from installation of new sanitary and storm drain manholes and wet wells to the rehabilitation and protection of existing sewer structures and treatment plants. Now, the Arizona leader in manhole installation, protection, and rehabilitation SWE, Inc. concentrates its efforts in assisting municipalities and collection system owners in renewing their aging sanitary sewer infrastructure, developing assessment/inspection programs, and offering new technologies and products to combat sewer corrosion.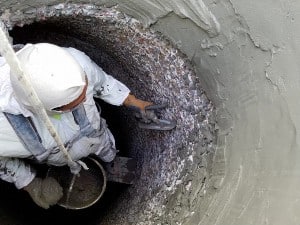 Case Studies
The outlines below are actual instances of our work in restoration of sewer structures.
Location:
35th Avenue and Vogel
Phoenix, Arizona
Owner:
City of Phoenix
Date of Project:
November 1998
Product(s):
Type of Structure(s):
Manhole 11′ deep, with a 4′ diameter manhole with precast and brick walls.
Condition of Structure(s):
The bench was completely deteriorated and the corrosion level was severe.
Description of Application:
The manhole was cleaned using high pressure water cleaning at 5,000 psi, 4 gpm to remove
failed Portland cement and prepare brick surfaces to a clean sound substrate: 2″ – 3″ of severely corroded concrete was removed.

After Ray Ryan's inspection, the rough aggregate was lined with 125 mils of Raven 405 in order to evaluate the effectiveness of the coating to protect the structure. Upon completion of coating, the structure was holiday tested. Approximately one year later, Bob Webb and Karl Anderson were present for a follow-up inspection. No problems were identified with the product or process at that time.
Location:
70th N. Main St, Downtown
Tucson, AZ
18" Sewer CIPP Rehab. JOC #114036, MH# 9852-05
Owner:
Pima County/City of Tucson
Date of Project:
April 2015
Type of Structure(s):
A 5'X10' brick manhole with brick drop inlet and two pipe drop inlets.
Product(s):
Condition of Structure(s):
The condition of structure was very poor with severe deterioration of the mortar with loose and missing bricks resulting in infiltration of ground water and structural instability.
Description of Application:
The rehabilitation started with a minimum 5000 psi water blast, the removal of old steel rungs and then the demolition of the brick drop inlet and one pipe drop inlet. The walls where the drop inlets had been were repaired along with applying 2" to 4" of rapid setting early strength cement to the entire surface of the manhole.
Once the cement repair material was given proper time to cure, new rungs were installed and a secondary water blast was performed. After the surface dried the coating, Raven 405FS was applied in two coats, totaling a minimum 190 mils.
The structure was tested for holidays to ensure a monolithic coating existed and adhesion testing was performed to achieve proper standards.
Starting in late 2013, Southwest Environmental Testing, Inc. has completed over 110 manholes in Pima County, AZ using this application process.
| | |
| --- | --- |
| Location: | Maricopa, Arizona |
| Owner: | Ak-Chin Indian Community |
| Date of Project: | November 1998 |
| Product(s): | |
Description of Application:
Hunter Contracting Co. was selected to evaluate over 240 wastewater structures and manholes for the Ak-Chin Indian Community in Maricopa, Arizona. It was found and recommended that over 106 manholes needed rehabilitation with a composite coating system. Hunter recommended using one of four epoxy coating systems and one polyurethane coating system. Several factors were used to evaluate the coating systems, not just the lowest bid pricing, such as, the coating systems physical properties, chemical resistance and historic performance, the systems capabilities, reputation and performance history using the products submitted by companies. In August 2016, Raven Lining Systems and certified applicator Southwest Environmental Testing from Phoenix, AZ were awarded the contract and began the project using Raven 405 100% solids Epoxy coating system.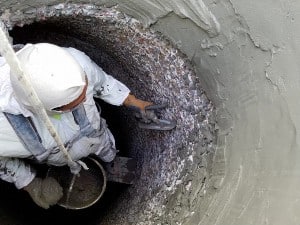 After high-pressure water blasting to remove deteriorated cement and surface contaminates, the condition of structures was so poor that it exceeded a CSP10 surface profile. More than two inches of cement substrate had been lost and ¾ inch aggregate exposed. The corrosion was due to deterioration from exposure to H2S gas and the sulfuric acid, which was produced by bacteria consuming the H2S gas and converting it to H2SO4. A thick rapid-setting, high-early-strength cement resurfacing was applied to reinforce and return the structures to their original dimensions along with providing a smooth uniform surface to apply the protective coating system. The resurfacing is given at least 24 hours to cure before water blasting a second time to a CSP3 minimum.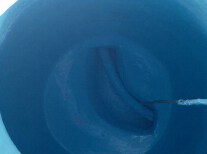 After the second surface preparation was dried, a 10mil coat of Raven 155 primer was applied to reduce the amount of air and moisture movement from the substrate. This helps reduce the number of holidays or pinholes in the final top coat of Raven 405. After allowing the primer to cure to a tack free state, the top coat is spray applied. The Raven 405 epoxy coating is applied to the structure using a plural component spray rigs and airless spray gun to a minimum thickness of 125mils. The coating is allowed to cure at least 24 hours and then Holiday tested to find any flaws or pinholes in the coatings film. A pull test is completed to check coating adhesion to the structure. Any flaws found and the points of adhesion testing are repaired with a hand application of the Raven 405.
| | |
| --- | --- |
| Location: | Brownfield, Texas |
| Owner: | City of Yuma |
| Product(s): | |
Condition of Structure(s):
The condition of structure was very poor with severe deterioration of the mortar with loose and missing bricks resulting in infiltration of ground water and structural instability.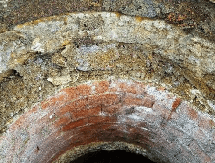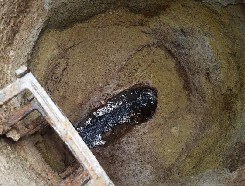 Description of Application:
This manhole was located right in the middle of a hotel entry way and just two feet off the street. The City of Yuma chose to rehabilitate the manhole using Raven 405FS 100% solids Epoxy coating over replacement due to the drastically high price of by-passing the sewer around the manhole, manhole replacement, road and parking lot replacement cost, traffic control, and the loss of business to the Hotel.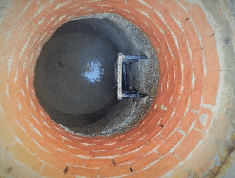 Roughly 2-3 inches of substrate loss and stews removed. Even the brick once high-pressure water blasted and cleaned lost about 1/4 of an inch of their surface. Boards with small holes in them were placed at the bottom of the manhole to reduce the amount of large debris that entered to sewer system but let the water drain through. Four 40-gallon trash cans of debris were removed from this hole.
A rapid setting high early strength cement was applied at 1.5 to 2 inches thick to repair the manhole interior surfaces. Then the hole was high-pressure water blasted a second time once the resurface had cured for 24 hours to remove weak latents and to provide a clean CSP 4 profile minimum. A flow through system was used during the rehab process so flow did not have to be bypassed and to keep a large amount of debris from entering the system.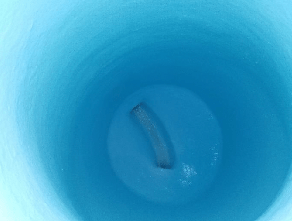 Raven 405FS was applied at over 220 mils thick in a single application and then once the coating was cured the flow through system was removed. A holiday test was performed in which four pinholes were located and repaired at once.
The entire rehabilitation process from start to finish only took three eight-hour work days without causing any major inconvenience or disturbances to the surrounding community. Since this project was completed the City of Yuma has contracted Southwest Environmental Inc. to rehabilitate a dozen more manholes.